THE IDEA IS SIMPLE -
Come in knowing nothing about art, leave with a masterpiece!
- An artist will guide you stroke by stroke through a one-of-a-kind painting. You'll discover your hidden artistic talent while having an unforgettable night of friends, drinks, and paint at Brush It.
- Your favorite drinks and snacks are available for purchase directly from the venue. They will be delivered right to your canvas to elevate your Paint and Sip experience!
NO ART EXPERIENCE NECESSARY. This is NOT an educational art class, it's simply a paint party! 
BOOK NOW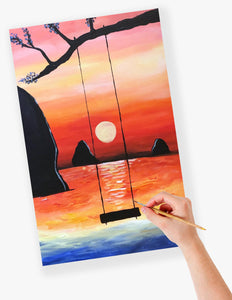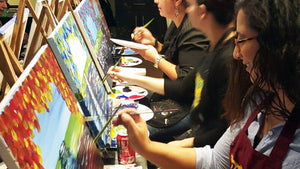 PRIVATE EVENTS-
Bachelorettes, birthdays, anniversaries, celebrations, company events? We got you!
Talk to us about setting up your private paint party. A special day and place can be discussed and arranged. You get to pick the art piece you want to paint, better yet, we can customize a special painting just for you!
Contact us for pricing and scheduling.
CONTACT US
FAQ
Do I need experience?
- NO! Just bring yourself and be ready to leave with an epic painting that will show your inner Picasso. 
Is this for adults or for children?
- Only adults above 18 are allowed
Can I just show up without scheduling?
- You may do that, however we CANNOT guarantee a spot for you. It is better to schedule prior to coming. 
Can I bring my child with me?
- We apologize, but only adults are allowed to join. However, stay posted for Mommy & Me classes. 
Do I need to buy any materials?
- Simple answer: NO